The last week or so has been unexpectedly stressful, as a housemate has decided to try to get me evicted me in favor of some of her friends who are moving to town. Lovely.
Being a bit of a nester, even in rented spaces, the prospect is more than slightly daunting. And so. While I battle on the home front, I've been indulging in some lighter literary fare.
Here's what I've been reading:
The P. G. Wodehouse Collection 
Wodehouse cures what ails ya. This collection contains Right Ho, Jeeves, a full-length novel about the mad love of Gussie Fink-Nottle (who studies newts) for Madeline Bassett (who unashamedly proposes that the stars are God's daisy chain), Aunt Dahlia (who may have gotten into a bit of trouble betting in Cannes), Antoino (who is more than a little touchy about his cooking), Bertie (of course), and, ever and always, Jeeves.
In an attempt to raise poor Gussie's courage (literally: he's a teetotaler, and no man, according to Bertie, ever screwed his spirits to the sticking point without a liberal application of spirits) enough to propose to the drippy Angela, Bertie proceeds to get Gussie very, very drunk. Unfortunately, Gussie also has to present the prizes at the Market Snodsbury grammar school later that day. Stephen Fry, in the article "What ho! My hero, PG Wodehouse" talks about this scene, which is considered the highlight of the novel:
The masterly episode where Gussie Fink-Nottle -presents the prizes at Market Snodsbury grammar school is frequently included in collections of great comic literature and has often been described as the single funniest piece of sustained writing in the language. I would urge you, however, to head straight for a library or bookshop and get hold of the complete novel Right Ho, Jeeves, where you will encounter it fully in context and find that it leaps even more magnificently to life.
This collection also includes a bunch of short stories– "Deep Waters" and "Extricating Young Gussie" (rumpty-tiddley-umpty-ay!)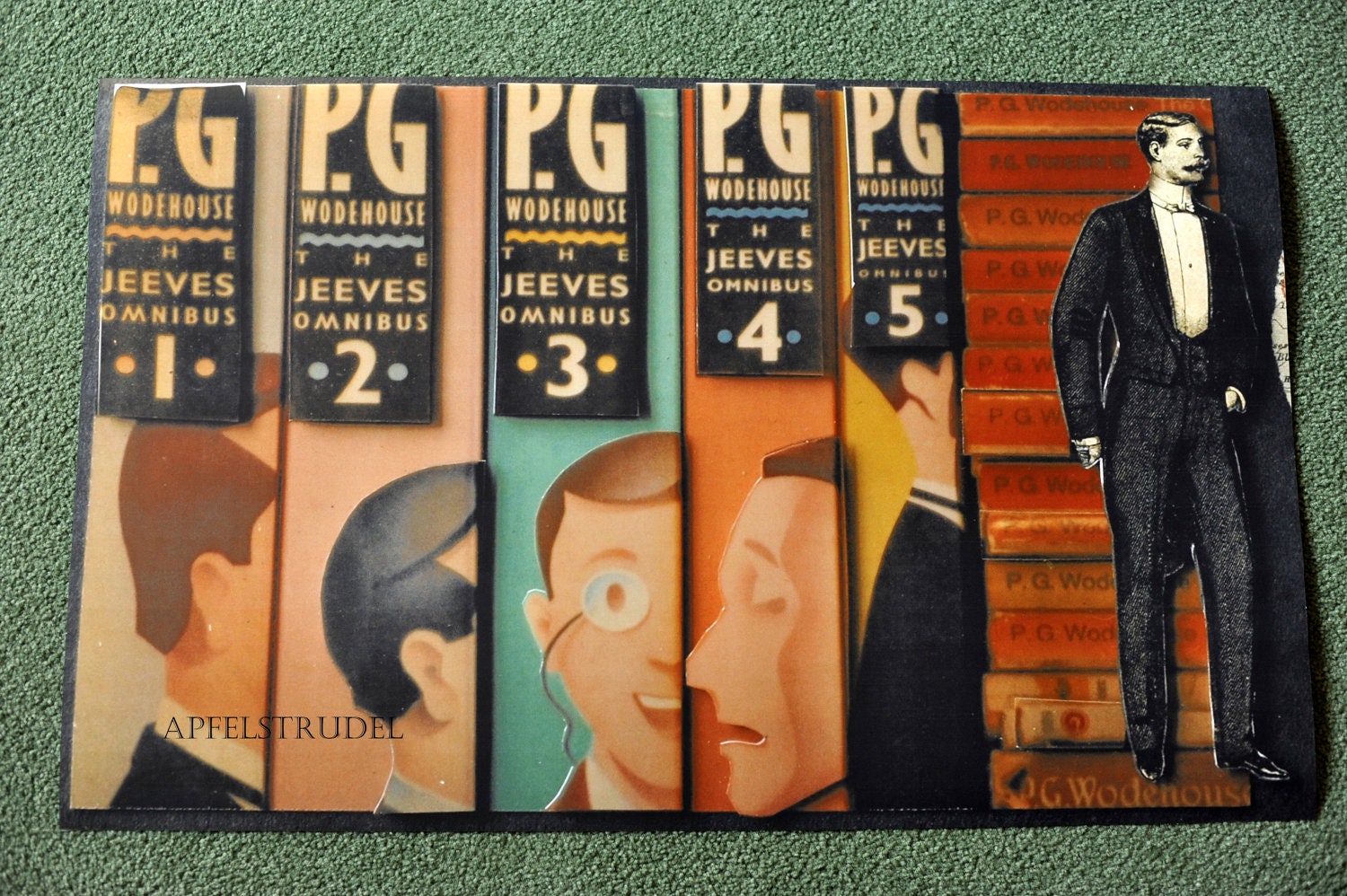 That Part Was True, Deboray McKinlay
I read this in one long, lovely gulp lying on a quilt on my roof on a sunny and windy Saturday morning. Quite delightful. Here's what The New York Times had to say about it:
How rewarding to perch on the shoulder of a character Barbara Pym might have conjured — a late bloomer who possesses "brickish stoicism" and brews tea on an Aga. So when the British author Deborah McKinlay takes us to "the depths of the English countryside, in a house that was an advertisement for the English countryside," we recognize that a Lively voice — à la Penelope, that is — will be reporting with wry detachment and affection.

"That Part Was True" is part epistolary, beginning with a fan letter sent by Eve Petworth to Jackson Cooper, a ­Robert-Parkeresque, best-selling American novelist. (His recurring protagonist is "a dry-witted sleuth with gourmet tastes and a talent for observation.") Cooking earns a starring role in their correspondence; as it continues, he begins to think of her as "his food friend," enjoying on paper "a chaste, if warm, thing based on a mutual interest."

Poor Eve, a divorced romantic pessimist, suffers anxiety attacks, brought on by almost anything outside her four walls. Her daughter, Izzy, and Eve herself consider Eve to have been very bad at mothering. And now Izzy's coming wedding introduces additional angst in the form of Simon, the long-estranged ex-husband and thrice-married father, who is making up for lost time and absent scruples.

Equal space is devoted to Jack, twice-divorced, sort of enjoying bachelorhood in the Hamptons. "For the past 15 years, women had been trying to please him. Not many had managed it." Several now seem "gluey." Especially skillfully rendered is his affair with a diffident New Yorker, Adrienne, a dispenser of unwanted editorial advice. Worse — she's a vegetarian who hardly eats! Mineral water and a salad don't keep good company with omnivore, gourmand Jack. Far-off Eve, on the other hand, is a safe, quixotic object of affection and a source of recipes.

McKinlay can dip into preciousness ("He detected on her ivory-headed notepaper the fine, fresh scent of herbs"). Yet almost every page offers delicious, offbeat descriptions. Izzy's fiancé is "all dangly charm and winsome scruffiness." His co-workers are "tidily polite." A waiter describes offerings "with religious gravity."

Will a culinary correspondence ("Mutton is good with plums") be enough to fan a flame? I worried that invitations to rendezvous in Paris were premature and unearned or, as Eve's housekeeper warns, "dodgy." But mercifully, Jack and Eve think so too. Jack wishes "he hadn't said that stuff to Eve; it sounded pretentious in the daylight."

Whereas some weak-kneed (literally: her anxiety attacks result in dead faints) characters might test our patience, we're always on Eve's side. She's self-aware, her own best critic, in search of coping mechanisms and peace.

Will these pen pals actually meet in a cafe on the Left Bank? McKinlay teases us, allowing them to correspond with a bit more ardor than their nonacquaintance warrants. If we occasionally wince at Jack baring his soul, going poetic, and with Eve responding in kind ("When it had all gone — my buoyant roundness and openness to joy — when it had been stripped away, I tried to forget everything"), we understand that distance and semi-anonymity are making them brave.

I won't say where their missives lead, but I will applaud the sensible outcome. This is England, after all, and we trust that Mrs. Petworth won't do anything rash.
And that's me. Anything great you've been reading? Please share!